Registration Information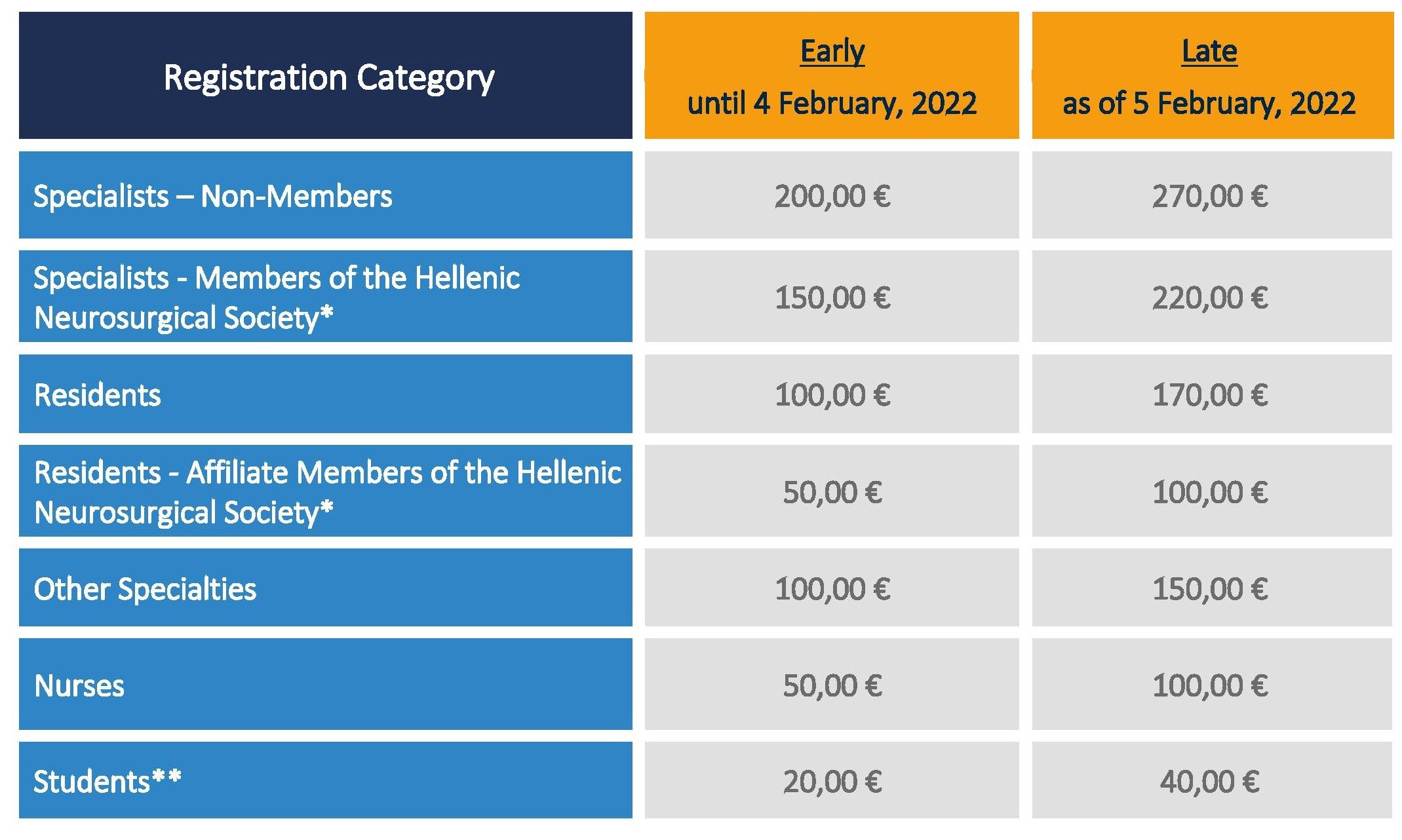 To register click here
24% VAT is not included in the above costs and is added upon payment and invoicing
* Applies only to financially up-to-date members of the Hellenic Neurosurgical Society
** All students are required to register on-line prior to the congress and to present their student
identification card to the congress secretariat upon registration
Above registration fees (physical presence) include:
Access to the scientific sessions
Access to the exhibition area
Final program in e-format
Certificate of attendance
Registration Procedure
To proceed with your registration go to the registration page, complete the form and click Submit. Then, you can select one of the means of payment mentioned below (on-line payment by credit card or bank transfer)
Means of Payment
Online, via the payment system at the following link https://www.concopco.com/pay/pay?conf=enxe2022.
Select the preferred category and the system will guide you through payment with credit card.
Via bank transfer
ALPHA BANK, Account Number: 155 00 200 200 9228
IBAN : GR4601401550155002002009228, SWIFT CODE: CRBAGRAA
Beneficiary: CONCO MEETINGS & EVENTS
All bank charges are to be borne by the payer.
Please quote your name upon making payment and send the proof of transfer to the congress secretariat
Notes
The Registration Department of the 35th Annual Congress of the Hellenic Neurosurgical Society & 15th Annual Neurosurgery Nurses Meeting cannot be held responsible for the double booking of an individual participant or group made by another company or organization.
Cancellation Policy
Cancellations must be submitted via e-mail to the congress secretariat at [email protected]
For cancellations submitted until 8 February 2022, 50% of the total participation amount will be withheld as cancellation fees
For cancellations submitted from 9 February until 10 March 2022, 80% of the total participation amount will be withheld as cancellation fees
No refunds will be made after 10 March 2022
In case the congress is postponed, all paid registration fees and booked accommodations will be transferred to the new congress dates.
Name Changes
Name changes must be submitted via e-mail to the congress secretariat at [email protected]
For name changes submitted until 8 February 2021, no extra charge will apply
For name changes submitted from 9 February until 10 March 2022, 30 € per name change will apply
No name changes are possible after 10 March 2022
For group registrations please contact the congress Secretariat:
CONCO Meetings and Events
Mrs Despina Nikolopoulou
T: +30 210 61 09 991